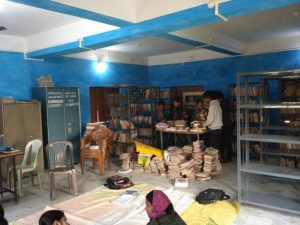 A man and his mission to build libraries in spite of all odds makesMohammad Nazimuddin Hazari different from his village. Hazari as he is better known among the circle is single handedly trying to materialize his dream to establish Library with books from around the globe, so that the knowledge should not remain restricted to limited few.
57 year young Nazimuddin Hazari is a librarian with a private concern in Kolkata but his untiring effort for years to build library got light, when he successfully raised a Library Building in his native village with the support from Government and now has registered his work as an NGO in the year 2000.
Apart from lending books and space for children to study, the organisation, which is named as Shashwata Suchetana Gramin Pathagar,have been doing various other activities, which include Text Book Distribution, Medical Camps, Eye Check up etc.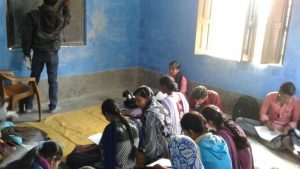 It all begun when he came to Kolkata in the year 1975 as a school boy to support his father in his bakery business and to study further in the city, but for young Nazimuddin, it was always his friend and village for whom his thoughts went by. Amidst the beauty and availability of all resources in the city made him cry in silence, that his friends and other children back in village are deprived of all this.
So whenever he visited his village he used to buy extra books from the pocket money he saved to give them to his friends and other village children.
After completion of his schooling from Kolkata Modern School, he joined Surendranath College and passed with Chemistry Honors but his interest in books made him pursue Bachelor Degree Course in Library Science from Jadavpur University and after successful completion of the bachelor course he joined a private company as its Librarian.


During his Library Science Student days, he came across many illumanaries who motivated him in his mission as he says while speaking to Youthens News "When I was a student of Library Science, West Bengal Library Movement was in full swing, and reading was a passion and therefore has become a movement in those days, it is here under the influence many intellectual my idea of Library took shaped, I thought rather than giving away books to children in my village, why not have a place or library where they can come and read books and open their mind in the world of learning".
Later when he joined the job he saved from his salary to build a library in his village near Khanakul in Hoogly District of West Bengal. Support from individuals and organisation started pouring in with his noble idea. While speaking to us Nazimuddin said "Generous help started pouring in, when I started, Mira Bhattacharya, the eminent social worker and wife of the then Chief Minister of West Bengal Buddhadeb Bhattacharya came forward to help me, their daughter Suchetana gave away all her books from her personal library which she has received as gifts and with her books we started our library in the year 2002."
The mission of establishing a library though took shape in the year 2002 and now with the support of MP Lad Fund, two room library on a land donated by a uncle of Nazimuddin has been build, with regular activities in the form of book for study and computer training with two computers are on in the building.
Every year they organise a special programme for school children were in they distribute nearly 200 school bags to school going students and books to Class-10 and Class-12 students and Medical Camp for villagers and Eye checkup for the elders of the village.But for Nazimuddin to maintain the ongoing projects support from people of the society to carry forward the lamp of knowledge by building libraries is very much needed.